Talzhemir Causes Mass Riot in Allegria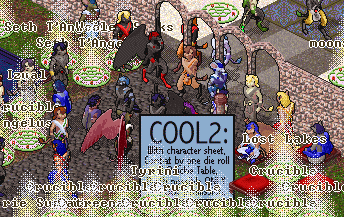 It all began with a simple, innocent announcement.

[=] Talzhemir announces: Somewhere, somewhere, on Allegria Island, is a Dream that turns you into a Kiwi. I'll give you a hint: F3 But now you must find it yourself! _ Good luck... *splash*

Ok, sure. A fun little game, yeah.

Youlanda: Prepare for a crowd...

Oh Youlanda, you have no idea...

Granite|Dark: Its a trick people

You hit it right on the nose, Granite Dark.

That's when the real fun started...

Veld: ACCCCCCCCCCCCCCCCCCCCCCCCCCCCCCCCCCCCCCCCCCCCCCCCCCCCCCCCKKKKKKKKKKKKKKKKKKKKKKKKKKKKKKKKKKKKKKKKKKKKKKKKKKKKKKKKKKKKKKKKKKKKKKKKKKKKKKK!!!!!!!!!!!!!!!!!!!!!!!!!!!!!!!!!!!!!!!!!!!!!!!!!!!!!!!!!!!!!!!!!!!!!!!!!!!!!!!!!!!!!!!!!!!!!!!!!!!!!!!!!

And like a nuclear blast, a pile of furres suddenly exploded into the fragile area between Water City and Lost Lake. Those who were already at ground zero... well, may their souls rest in peace.

Klass: Aw... damn

Poor Klass didn't even have a chance.

Cr0nos: EveryoneHeh Klass said damn
Fenris|Lofwyr: Klass said damn?
Klass blames Talzhemir.
Raura takes a pic and sells it to the tabloids "Furcadia Riot, WHat is Felorin to do?"

Sorry, Raura... the story has already been taken. You have to be quicker than that.

Gold|Lynx: SON OF A BITCH!!!
Gold|Lynx: lol ill bet this'll be on randomism

So, did you get anyone to take that bet, Gold Lynx? If so, we want our share.

Youlanda: What isn't on randomism?

We love you, Youlanda, but we don't get nearly enough comments from you. More, more, we want MORE!!

NyteShayd: LET ME OUTTA HERE!! I DON'T WANNA BE A DAMN KIWI!!

All this commotion to get furres to be kiwis, and they don't even want to be kiwis.

Youlanda: STupidity level rising....

You said it.

Tybaltius: It's just a dream
Tybaltius: It's not that special

Philosophy is not your forte, Tybaltius. Stick with poetry.

Youlanda: Must.....
Youlanda: avoid.... insanity.....

Too late, Youlanda.

Izual: HEY! DUMB ASSES! IF YOU LEAVE I"LL TELL YOU HOW TO MAKE A DREAM THAT TURNS YOU INTO KIWI! YOU JUST REPLACE THE ORIGINAl FURCADIA CHARACTER PCX FILES WITH THE KIWI ONES> THEN YOU MUST SPECIFY THE FILE DIRECTORY IN DREAMED: THEN UPLOAD> YOU MUST HAVE UNICRON SCAN TO DO THIS. -.-

Looks like they don't have to leave now, you already told them, genius.

Veld: AAAAAAAAAAAAAAAAAAAAAAAAAAAAAAAAAAAAAAAAAAAAAAAAAAAAAAHHHHHHHHHHHHHHHHHHHHHHHHHHHHHHHHHHHHHHHHHHHHHHHHHHHHHHHHHHHHHHHHHHHHHHHHHHHHHHHHHHHHHHHHHHHHHHHHHHHHHHHHHHHHHHHHHHHHHHHHHHHHHHHHHHHHHHHHHHHHHHHHHHHHHHHHHHHHHHHHHHHHHHHHH!!!!!!!!!!!!!!!!!!!!!!!!!!!!!!!!!!!!!!!!!!!!!!!!!!!!!!!!!!!!!!!!!!!!!!!!!!!!!!!!!!!!!!!!!!!!!!!!!!!!!!!!!!!!!!!!!!!!!!!!!!!!!!!!!!!!!!!!!!!!!!!!!!!!!!!!!!!!!!!!!!!!!!!!!!!!!!!!!!!!!!!!!!!!!!!!!!!!!!!!!!!!!!!!!

The tension builds...

Fenris|Lofwyr: Hey Klass...we're WAAAAAAIIITIIING

Yeah, Klass, get your ass in gear.

Tybaltius: Puff the magic Dragon
Tybaltius: You r Niko

Alt detection is not your forte, Tybaltius. Stick with poetry.

Youlanda mumbles: I support the removal of fertility organs from illogical "Stupid" people like the ones that everyone says shouldn't breed.

No comment.

Klass: I support Talzhemir not making announcements like that ;)

No comment.

Krillen: if some one doesnt move. the only words they will be hearing is "dental records"
Youlanda: This will be a great log

Why would anyone log this?

Shadowborn: '`boot kiwi

And soon after, poor innocent Kiwi De L'Eau was booted away, simply because she was trying to get to her home. According to Klass, she suffered greatly and may never function 100% ever again. Shame on you, Shadowborn.

Fenris|Lofwyr: I hope Talhezmir's FRIGGIN HAPPY NOW
Cormallen: There is no Kiwi dream, so there is no reason to stand around.

Oh.. Talzhemir didn't lie to us, now did she? She promised us a kiwi dream. We want our kiwi dream!

Login: WE WANT THE DREAM!!!
Login: WE WANT THE DREAM!!!
Login: WE WANT THE DREAM!!!
Login: WE WANT THE DREAM!!!
Login: WE WANT THE DREAM!!!

Yeah, what he said.

Youlanda: Down with everything!

No comment.

Cormallen: Please, leave Allegria, you know how to use Ctrl-S.

Sure, everyone go to the Vinca. There's plenty more room there.

Water|City: Leave this area, anyone within distance should press ctrl-s.

Oh... we better move now. The Owsla are one thing... but Water City? Now I'm scared!

Cormallen: Clear out Allegria, please! We'll figure it out later.

Boot 'em all and let Felorin sort it out.

Izual: Hey, be nice to Watercity or I'll cram my foot up your ass. -.-

That's why we fear water City.

Puff|the|Magic|Dragon: Owsla don't get paid :p

And so Puff decided to use her magic breath to clear the area, and she inhaled, but before she could exhale, she was piled onto and buried in a sea of furres... poor Puff... we hardly knew ye.

Cormallen: Okay, looks like the booting will need to commence. :P

Alright! The part we've been waiting for!

Cormallen: Again, do we need to resort to physically clearing this place? You know you all can do it yourself.

BOOT! BOOT! BOOT! BOOT!

Elizabeth|Kitty: Use control-S and leave this area now
Water|City: Elizabeth is here to save us!
Elizabeth|Kitty: Please clear off the path furres_

Didn't she retire?

Then came a long series of boots...

Shadowborn: One might point out that if the booted didnt return to this area, we wouldnt have to boot.

One might also point out that if the booted were never booted, they wouldn't have to return to the area.

With the crisis averted, Randomism sends in a reporter to finish the story. The reporter didn't actually know that he/she was reporting for Randomism, and probably won't know until when and if he/she reads this:

Fenris|Lofwyr: "This is Furcadia News...all news all the time"
Fenris|Lofwyr: "Yes Frank, it seems the crisis in Allegra Island has ended...after rioters were subdued in a hideous amount of BOOTING"

Thank you, and goodnight.


---
Home